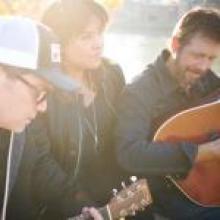 Saturday, September 25, 2021 -

7:00pm

to

9:00pm
LIVE MUSIC EVERY WEEKEND AT WILDWOOD!
 
The Close is an acoustic Americana vocal band from the southeast based in Nashville, TN.  Shannon Walker, Lori J Rowton and James Mckinney are three lead singers, songwriters and multi-instrumentalists whose blend of genres and styles wrap around intricate three-part harmonies reminiscent of The Eagles, Fleetwood Mac, CSNY and other harmony focused bands made of multiple writers. Their stellar and hauntingly beautiful harmonies blend together Americana/Contemporary Folk/Country with a commercial pop sensibility. Currently, they are touring heavily to promote their debut Americana EP release, Hello Heart, available now.  
The Close was most recently featured on Roots Radio, WMOT's Finally Friday Broadcast live from 3rd & Lindsley in Nashville, TN, and will be featured on the upcoming television series, The Southern Music Showcase that airs on BLTV.  In 2020, The Close was asked by Victor Records, famed maker of the Victrola Record Player from Victor/RCA Records, to record a live project at Victor recording studios in Camden, New Jersey, to help promote their record players.  The Close will be promoting a self-released double album in the fall.

Learn More