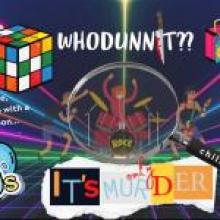 Saturday, March 11, 2023 -

6:00pm

to

9:00pm
Wildwood & The Murder Mystery Co. presents, "I LOVE THE 80's TO DEATH" Murder Mystery Dinner Show. Tickets are $59 dollars per person and include a Rockstar-themed buffet dinner, dessert, non-alcohol drinks and coffee. A full-service bar will be available.
HOW IT WORKS -
The mysteries presented by the Murder Mystery Company are fresh, creative and fun. Their original scripts are played out by talented actors and will challenge your brain and tickle your funny bone! Tickets include a delicious meal and hilarious show. Reservations Required. Doors open at 6p with the show starting promptly at 7p. Buffet Dinner. Cash Bar for 21 and over with valid ID. NOTE** This event is general seating in tables of up to 8 ppl. If you need group seating, please include a Group Name on your reservation.
ADULT THEMED COMEDY –
The evening begins with laughable cocktail hour introduction to the suspects and continues through a delicious buffet dinner prepared by Wildwood's Chef Chris. Guests examine clues, question suspects, and follow hunches. Laugh after hilarious laugh proves that crime really CAN be this FUNNY. $59 per person includes buffet dinner and show. Dressing in your best 80's outfit is encouraged. Come out on March 11 and help us solve whodunnit!
THEME -
It's the 80s again, and all the big names are here for a huge rock concert. Tensions run rampant as backstage secrets spill out into the spotlight with like, totally tragic results! This isn't an episode of Miami Vice! This is like...murder. It's up to you to bust it like a ghost, for sure! Peg your jeans, slouch your socks, flash some neon, put on way too much eyeliner and get that hair up! You are going to solve this crime in style. No time to be Too Shy! You are a Smooth Operator, and you know to listen to those Careless Whispers. It's time to put on your Sunglasses at Night and Relax. Time after time...You will solve the case.