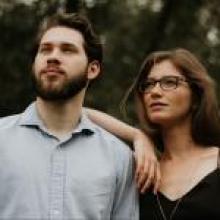 Saturday, August 7, 2021 -

6:30pm

to

8:00pm
LIVE MUSIC EVERY WEEKEND AT WILDWOOD!
 
Originating from Nashville, Tennessee, jazz vocalist Arianna Hume and guitarist Ryan Casey joined together in 2016 to form the Arianna Hume Duo, in hopes of arranging and performing stylistic covers of popular 1940's and 50's jazz standards. Their expansive repertoire includes the works of Frank Sinatra, Billie Holiday, Ella Fitzgerald, Etta James, George Gershwin, and many more. Additionally, the duo specializes in rearranging contemporary music to fit seamlessly with this music of the past, performing works by artists such as Norah Jones, Van Morrison, Elvis Presley, and Stevie Wonder in such a way to produce a stripped-down, vintage sound.
    The Duo (recently named one of 'The Top 12 Wedding Bands in Nashville') strives to deliver a high quality musical experience – a beautiful and elegant live sound for a multitude of venues, including upscale restaurants, weddings, private and corporate events, and much more. Whatever the occasion might be, The Arianna Hume Duo will be the perfect backdrop for a night of live-music that will be sure to satisfy you and all your guests.

Learn More