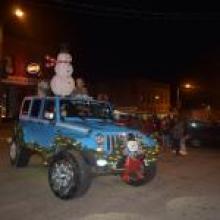 Saturday, December 4, 2021 - 5:30pm
"Songs of Christmas" will be the theme this year!
Our Jackson County Health Department will be the grand marshal for the parade to honor their dedication during a very long and trying year. We encourage everyone to come out to the Gainesboro Downtown to enjoy this year's Christmas Parade. The parade will begin at 300 Birch St and take a right up Hull Ave, it will then circle the courthouse continuing to Main St where it will take another right, it will then continue down Main St until it runs into Hwy 56 and then will take a left and continue back to its original starting point. A link to the parade route is below.
If you are interested in entering a float in the parade, please click the "Contact" tab above and request an entry form at the "Contact Chamber" page.
Please remember to socially distance along the parade route and practice COVID-19 guidelines to protect yourselves as well as everyone else!