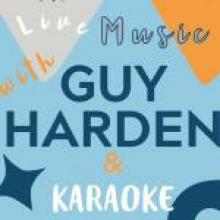 Friday, September 22, 2023 -

7:00pm

to

10:00pm
Live music on the waterfront with Guy Harden. In between music sets, the fun and talented Jean Harden will open up the Karaoke mic.
Guy Harden's career started with "Warm In My Arms". It went to #24 in the nation, which was recorded on Shannon Records and owned by Jim Reeves. Guy hit the charts with many other songs like "Welcome to My World" and "Mohair Sam". Guy was a crowd-pleaser at Fan Fair in Nashville Tennessee for many years and a regular on the Ralph Emery TV Show for 13 years. He has appeared on, Charlie Chase's Channel 4 Magazine TV Show, CNN and numerous others. Guy was the headliner at the Alabama Theater in Myrtle Beach, SC with the supergroup Alabama and was a mainstay at Opryland Hotel for over 13 years. Guy has done extensive touring throughout the USA and Europe with many major Pop and Country recording artist. More recently he has been touring with Razzy Bailey and doing sessions in Nashville. Guy is a versatile artist and covers all types of music from Pop, Country, Blues, Reggae, Soul, 40's and 50's playing many different instruments such as guitar, banjo, mandolin, fiddle, and harmonica. Versatility is his motto. A performance by Guy Harden is something you soon won't forget.
To Learn More about Guy visit his website: 
guyharden.com/