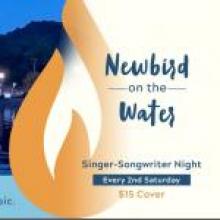 Saturday, July 9, 2022 -

7:30pm

to

9:30pm
Once a month through the summer, Wildwood hosts a phenomenal evening of song and stories with the writers who made them famous.   It's like being at the Bluebird in Nashville, but sitting by the lakeshore.  This listening room type experience features some of the most highly acclaimed and award-winning singer/songwriters around
Time – 7:30 9:00
Cover – $15 per person (Proceeds go to the songwriters).  Guests staying at Wildwood for two nights or more are free.
Seating is limited, please call our concierge at 931-653-4360 to hold your table.
Cocktails – An open bar will be available.
If you love acoustic music and hearing the stories behind the songs, if you long to find a secret place that many know of but only a few share… may the music bring you here.
Award winning, singer-songwriter, producer Jeff Trott is part of the Nashville music scene.
Trott's name is synonymous with Sheryl Crow, having co-written some her biggest hits. "If It Makes You Happy", "Everyday is a Winding Road", "A Change", "My Favorite Mistake", "Soak Up The Sun". Recently released songs written with Natalie Hemby ("Heroes"), Lucie Silvas ("Cool Down"), Hayes Carll " Leave lt All Behind".
Produced the 2019 Hootie and The Blowfish record "Imperfect Circle". Produced Aaron Lee Tasjan's album "Karma For Cheap". Clare Dunn "Salt And Lime".
Sheryl Crow's 2017 album "Be Myself" and songs from Crow's 2019 album "Threads". Produced Leighton Meester's 2014 LP "Heartstrings". "One Bad Eye" with Morgan Kibby of M83. Griffin House's 2007 record "Flying Upside Down". He produced Stevie Nicks for the soundtrack of "Practical Magic".
Jeff was awarded Songwriter of the Year by BMI in 1998. He has also written with Hillary Lindsey, Maren Morris, Brandy Clark, Andrew Combs, Jimmy Robbins, Devon Gilfillian, Jonathan Singleton, Kristian Bush, David Shaw of the Revivalist, Rob Thomas, Jillian Jacqueline, James Mercer (of The Shins) The Brummies, Morgan Kibby, Kendal Marvel, Robert Randolph, Randy Houser, Keith Gattis, The Who, Tears For Fears, Joe Cocker.
Jeff has played in a wide range of bands such as Tears For Fears, Wire Train, World Party, Pete Droge, Bash And Pop, The Lifers.
James House has sung radio hits, written successful songs for others, built a studio and been a session musician and a record producer.
But when he began playing music on his own at age 18, he gravitated to the sounds of The Beatles, Loggins & Messina, Van Morrison, Crosby, Stills & Nash and the like. His big, versatile, emotive singing voice gained him a pop recording contract in Los Angeles. He also sang on the soundtracks of such films as Teen Wolf II, Fire With Fire, Gleaming the Cube, Speed Zone and He's My Girl. In 1983, House took a plunge into rock recording with a self-titled LP for Atlantic Records. His songs were recorded by pop artists like Rita Coolidge, Lisa Hartman, Fiona, Fee Waybill and Kylie Minogue.
His music publisher urged him to turn his attention back to country music. James House moved to Nashville in January 1988. By the following year, he was an MCA Records artist and on the country charts with singles such as "Hard Times for an Honest Man."
In 1993, Diamond Rio had a huge hit with House's co-written "In a Week or Two" and Dwight Yoakam scored with his "Ain't That Lonely Yet." (Grammy nominated for Country Song of the year). His country songs were also recorded by Ricky Van Shelton, Mark Collie and The Mavericks.
James House roared up the country charts, himself, with 1995's "This Is Me Missing You." That same record was revived as a hit in England in 2013. With "This Is Me" reaching #1 and two other tracks from the album "Little By Little" and " A Real Good Way to Wind up Lonesome" both reaching the Top 10 of the UK Country Dance Chart in 2014.
Martina McBride took his co-written "A Broken Wing" to No. 1 on the country hit parade in 1998 where is was also nominated for CMA song of the year. Since then, James House's songs have been recorded by country stars such as Steve Holy, Lorrie Morgan, Sara Evans, David Ball, Craig Morgan and Steve Azar as well as by the pop/rock acts Rod Stewart, Tina Turner, Olivia Newton-John and Bonnie Tyler.