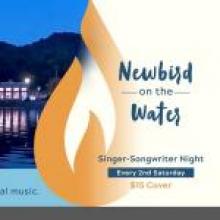 Saturday, August 13, 2022 -

7:30pm

to

9:30pm
Once a month through the summer, Wildwood hosts a phenomenal evening of song and stories with the writers who made them famous.   It's like being at the Bluebird in Nashville, but sitting by the lakeshore.  This listening room type experience features some of the most highly acclaimed and award-winning singer/songwriters around
Time – 7:30 9:00
Cover – $15 per person (Proceeds go to the songwriters).  Guests staying at Wildwood for two nights or more are free.
Seating is limited, please call our concierge at 931-653-4360 to hold your table.
Cocktails – An open bar will be available.
If you love acoustic music and hearing the stories behind the songs, if you long to find a secret place that many know of but only a few share… may the music bring you here.
eff Cohen a 4 Time BMI Award winning, Grammy Nominated Songwriter/Producer/Publisher based in Nashville whose songs have appeared on over 20 million albums sold, over 100 placements in TV/Film and over 10 million video games. Jeff's songs have been recorded by The Band Perry (Hit single/BMI Award – Postcard From Paris), Evan and Jaron (Hit single/BMI award – Crazy For This Girl), Big and Rich (Hit single/BMI award – Holy Water), The Shires (Hit Singles – 1000 Hallelujahs, Daddy's Little Girl and Echo), The Worry Dolls – Endless Road (2018 UK Americana Award Song of The Year Nomination), Laura Bell Bundy (Hit single – Giddy On Up – also #1 Video CMT and GAC, Richie MacDonald of Lone Star (Hit single – I Turn To You), Ilse DeLange (Hit Single – Beautiful Distraction), Waylon (Hit Single – Hey), Nell Bryden (Hit Singles "Amy" and "These Changes") , Nikhil D'Souza (Singles – "Beautiful Mind" and "Silver and Gold"), Sugarland, Josh Groban, Mandy Moore, Macy Gray, Spin Doctors, Nick Lachey, Teitur, Doc Walker, Mickey Guyton, Hush, Luz Casal, Marc Broussard, Kristian Bush, Jasmine Murray, Cho Yong- Pil, Tina Dico, Sandi Patty and many more.
His songs have been featured in TV shows such as Jack and Jill (theme), Paw Patrol (theme) I Married A Princess (theme),The Exes (theme), Dawson's Creek, Party of Five, One Tree Hill, American Idol, Saturday Night Live, The Simpson's and many more. HIs songs have been featured in movies such as Sisterhood of the Traveling Pants, My Super Ex-Girlfriend, Stuart Little 2, Aquamarine, Princess Diaries, Grandma's Boy and more.
Among his constant co-writers are Jamie Hartman, Sacha Skabek, Kara DioGuardi, Liz Rose, and many more.
Jeff is a Board Member of NSAI (Nashville Songwriters Association International) and Board Member of Inspired Nation Foundation. He is also founder and songwriter of the critically acclaimed band Pancho's Lament
In a previous life he was a music executive at BMI working with such talent as Jeff Buckley, Kara DioGuardi, Lisa Loeb, Joan Osborne, Ben Folds, Ani DiFranco, Spin Doctors, and many more.
James T. Slater is a two-time, grammy-nominated, piano-playing, bilingual singer-songwriter of Bolivian American descent signed to Disney Music Group Publishing in Nashville, Tennessee. Born in Durham, North Carolina, and raised in the tropics of the Panama Canal Zone in Central America.
Willie Nelson's "Life Is A Moment", Tim McGraw's recent first single…Looking for That Girl, Enrique Iglesias' "Only A Woman" on his new Sex And Love C.D., Rascal Flatt's "Life Is A Song" are all James' compositions. His songs have been recorded by Carrie Underwood, Tim McGraw, Lady Antebellum, Kenny Chesney, Rascal Flatts, Kelly Pickler, Reba McEntire, Gloriana, Martina McBride, Enrique Iglesias, Chris Brown, Chris Young and a host of others. His Grammy nominations include Jamey Johnson's "The High Cost of Living", country song of the year, and for Martina's "In My Daughter's Eyes". James also has a song in the new George Clooney Film "TOMORROWLAND" which hits theaters May 22, 2015.
James lived in Zurich Switzerland for six years touring, recording and writing with Belgian super group Vaya Con Dios and has traveled the world from Panama to Dublin, from Spain to Havana.
He and his grand piano now live in Nashville, Tennessee. He has recently signed a Worldwide Publishing Deal with Disney Music Group. Martina's recording of "In My Daughter's Eyes" has become a modern day standard garnering James a BMI country award as well as a BMI pop award in 2006.
James also co-wrote the winning "The Way That I Want You", sung by Julio Iglesias Jr. on CMT's Season 1"Gone Country" reality show as well as co-writing "Glorious Train" with Sheila E on Season 3, and his solo c.d. release "Key West Address" is a love letter to the island that reminds him so much of his tropical upbringing, so much so that the mayor of Key West has awarded James the "keys to the city" and proclaimed the song "Key West Address" the island's official theme.
James' latest release is "Barefoot Heart", 14 brand new compositions including the raucous
"Mexicoma"…a Tim McGraw favorite in concert…