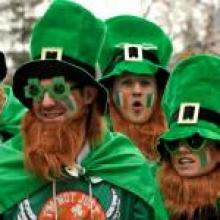 Saturday, March 18, 2023 -

6:00pm

to

9:00pm
It's a St. Patrick's Day celebration at the Bull & Thistle with the one and only SECRET COMMONWEALTH! Come join us for a great night of music, magic, Irish dinner specials and plenty of beer as we raise a toast to the great man himself!
Yes, it's a day late. But doesn't the good St. Patrick deserve more than one day of celebration?
THE SECRET COMMONWEALTH has been Middle Tennessee's most enduringly popular Celtic band since 1993. Influenced by The Pogues, The Chieftains, and traditional Irish pub bands, TSC's music mixes original material with traditional music and many styles of American and European folk. Inspiring, energizing, entertaining, and with impeccable musicianship, TSC brings the fun, the party and the music!
And on Saturday night, March 18th, TSC returns to the Bull & Thistle stage! Music starts at 5pm! It's the wearing of the green at the Bull & Thistle, and a huge welcome back to THE SECRET COMMONWEALTH!